グローバル拠点
overseas office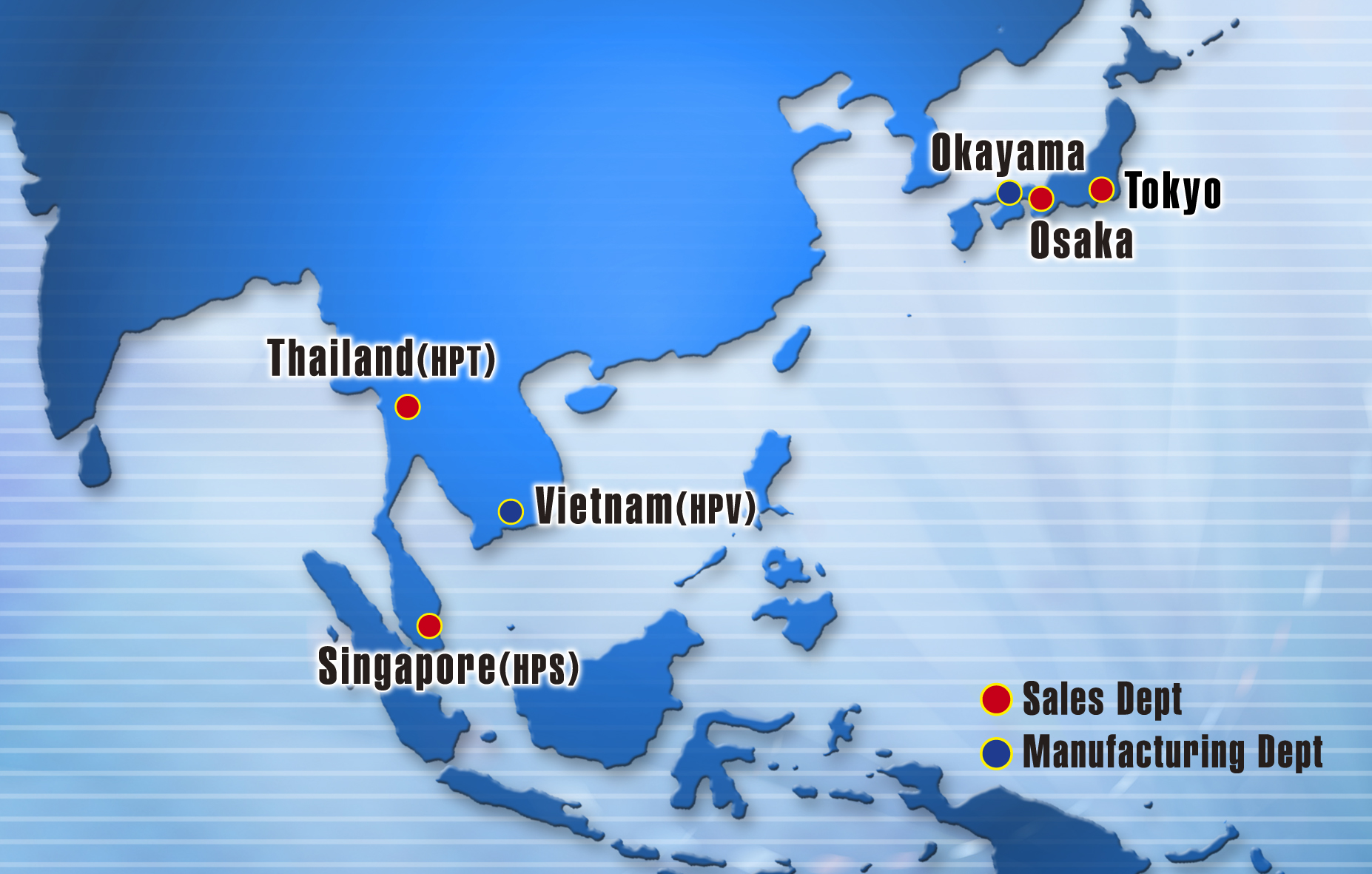 本社/本社営業部
Head Office / Business Dept.
〒537-0012 大阪市東成区大今里3丁目26番17号
TEL: 06-6974-5555 FAX: 06-6974-5562
3-26-17, Oimazato, Higashinari-ku Osaka-shi, Osaka, 537-0012, Japan
TEL: +81-6-6974-5555 FAX: +81-6-6974-5562
詳しく見る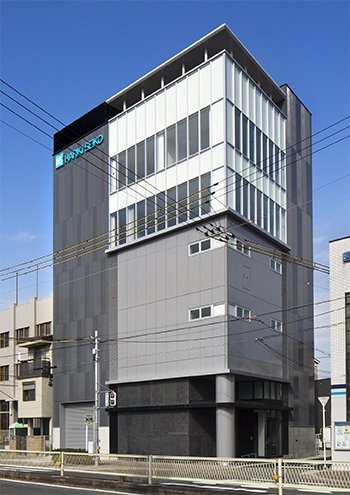 常に満足いただけるサービスを
Provide with satisfying service everyday
大阪本社は、営業部門だけでなく、検査部門、入出荷・在庫管理部門を1棟に集約し、確かな品質の製品を迅速にお客様にお届けする体制を整えています。
Headquarters in Osaka establishes its service system for supplying customers with high quality products swiftly by putting into one place not only sales department but also inspection setion, and receeiving and shipping and inventory management setion.
主力の精密切削部品について、技術的なご相談、ご要望は自社の岡山工場・ベトナム工場のほか、協力工場とも連携し、単品から量産まで幅広く、速やかに課題解決にあたらせていただきます。
If you ask us your technical consultation and demands about precision parts which is our main products, we promptly strive to settle the matter regardless of the quantity with our Okayama and Vietnam factory, or subcontract factories.
また、工業用ファスナー(様々なねじ類、規格品など)も取り扱っており、きめ細かなサービスを提供しています。
Also, dealing with many kind of industrial fasteners, we can provide with attentive sevice.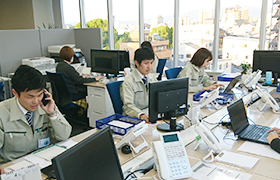 営業フロア
sales department floor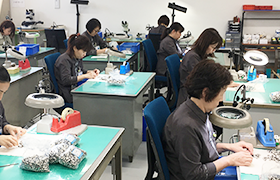 検査フロア
inspection section floor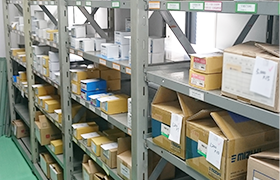 在庫スペース
inventory storage
〒181-0012 東京都三鷹市上連雀1-9-1 2F
TEL: 090-5910-8787
2F 1-9-1,Kamirenjyaku,Mitaka-City,Tokyo,181-0012,Japan
TEL: +81-90-5910-8787
詳しく見る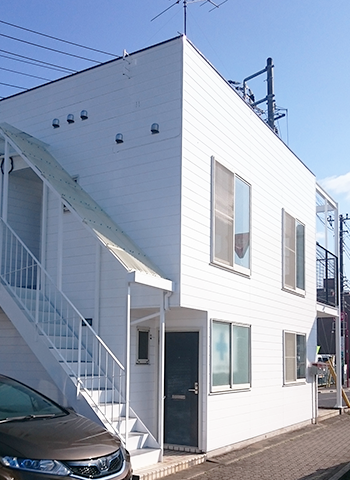 ハリキ精工を全国へ
Well-known to nationwide
関東出張所は、当社の東日本営業拠点として、関東・東北・甲信越のお客様への営業活動を行っております。
KANTO branch acts as a sales base for Higashi Nihon such as Kanto, Tohoku, and Koshinetsu districts.
営業活動で得たお客様のニーズを大阪本社、岡山工場、ベトナム工場、海外営業拠点に展開し、連携をとりながら柔軟にご要望にお応えしていく体制を取っています。
We'll meet flexibly the customer's demands through sales activities of this branch by sharing and cooperating with Osaka headquaters, Okayama factory, Vietnam factory, and other overseas bases.
〒708-1514 岡山県久米郡美咲町藤田上111番
TEL: 0868-64-7007 FAX: 0868-64-7010
111, Fujitakami, Misaki-cho Kume-gun, Okayama, 708-1514, Japan
TEL: +81-868-64-7007 FAX: +81-868-64-7010
詳しく見る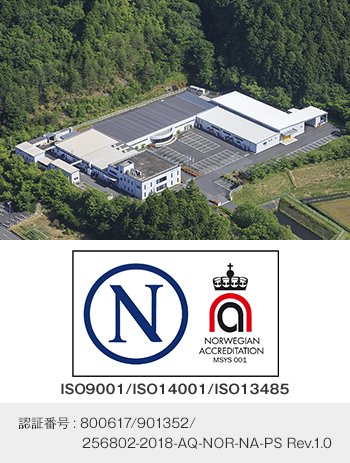 超精密切削部品を一貫生産する・・・業界屈指の技術企業です
We are an industry-leading company with high technology, can be integrated production for ultra precision cutting parts.
岡山工場は、品質/環境/医療機器マネジメントシステムの国際規格であるISO9001/ISO14001/ISO13485の認証取得工場です。
Okayama factory has aquired ISO9001/14001/13485 certification, which are the international standard of quality/environmental/medical device management system.
数百種類の超精密切削加工部品を月産1千万本以上の一貫生産が可能です。
Our production facilities are capable of an output of over 10 million ultra precision cutting parts per month, of several hundred varieties.
当社の精密切削部品は、様々な分野で機能部の中枢として活躍。特に自動車、医療機器分野では信頼性が高く評価されています。多様化の時代にあわせ、材質、精度、用途など、あらゆる仕様に対応できる生産体制を布いています。
Our precision ctting parts are valued as core components in various fields and their relability is highly appreciated, particularly in automobile and medical device field.
In the era of diversification, we are ready to meet all specification for materials, precision and demand.
また、医工連携により、外科手術用鉗子の設計開発に積極的に取り組んでいます。
Also we are actively taking on design/development of surgical forceps by medical-industrial partnerships.


各種CNC精密自動旋盤
CNC Precision Automatic Lathe Machine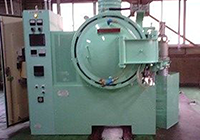 熱処理機
Heat Treatment Machine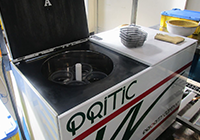 バレル機
Barrel Machine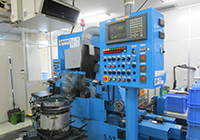 研削盤
Grinding Machine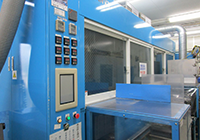 洗浄機
Cleaning Machine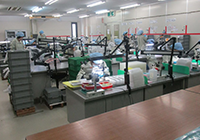 検査室
Inspection Room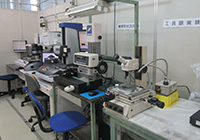 各種測定器
Measuring Instrument
HARIKI PRECISION VIETNAM CO.,LTD.
No.22 Tu Do Boulevard, Vietnam-Singapore Industrial Park, Binh Hoa Ward, Thuan An City, Binh Duong Province, Viet Nam.
TEL: +84-650-3782693 FAX: +84-650-3782694
詳しく見る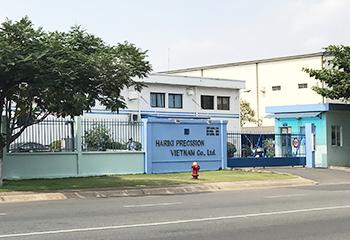 ハリキ精工の技術を世界へ
Featured HARIKI's technology to the world.
グローバルに展開する当社初の海外自社生産拠点として2002年11月に産声を上げました。
Advancing global expansion, we founded HARIKI PRECISION VIETNAM as our first overseas production base in November, 2002.
ハードディスク中枢機構部品の一貫生産からスタートし、現在では自動車分野・医療機器分野等の様々なエリアに超高精度製品を発信しています。
Starting from producing key mechanical components of HDDs, we currently produce super precision parts in various fields such as automotive, medical device.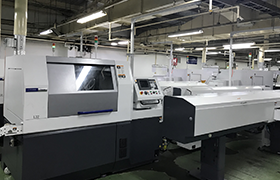 CNC精密自動旋盤
CNC Precision Automatic Lathe Machine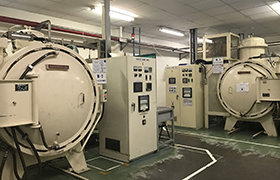 熱処理機
Heat Processing Machine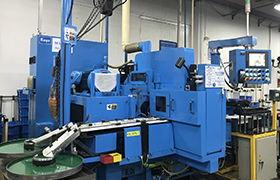 研削機
Grinding Machine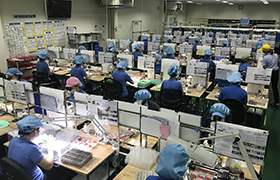 検査室
inspection Room
測定器
Measuring Instrument
梱包出荷
Packing & Shipping
HPS(シンガポール)
SINGAPORE (Sales Office)
HARIKI PRECISION SINGAPORE,PTE.LTD.
21 Bukit Batok Crescent #12-83 Wcega Tower Singapore 658065
TEL: 65-6471-1066 FAX: 65-6471-1366
詳しく見る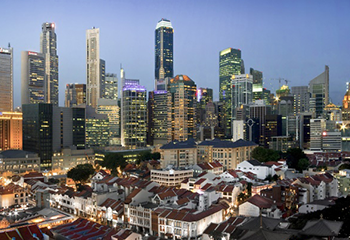 世界市場拡大に向けて
Toward the world market expansion
国際都市・シンガポールに営業所を設け、世界マーケットを視野に入れた新規開拓を強力に推進しています。海外の販売拠点という機能と同時に流通の拠点という機能を合わせ持ち、ベトナムを中心に東南アジアで製造された製品を世界に向けて発信しています。
We have located the sales office in Singapore, and promote new business development strongly with a view to world market.
This office has the functions both of overseas sales bases and of distribution bases, so many of products manufactured in our Vietnam factory and/or subcontract factories in Southeast Asia are shipped to various countries.
HPT(タイ)
THAILAND (Sales Office)
HARIKI PRECISION (THAILAND) CO.,LTD.
95/23 Pattanasiri Village,Moo 5,Khukot,Lamlukka,Phathumthani 12130
TEL: +66-2156-9047 FAX: +66-2156-9050
詳しく見る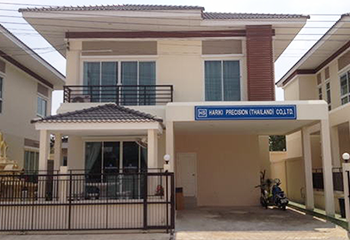 強力なネットワークを確立し、グローバル展開へ
Establish a strong network aimed at global development
タイは、HDD、自動車をはじめとした各産業の一大生産拠点となってます。これに対応すべく、よりお客様に近い所に営業拠点を設け、迅速な行動力で新規開拓を強力に推進しています。
Thailand is the large -scale production sites of various industries such as HDD, automobile.
From that sutiation, we have located the sales office here to stand beside our customers, and promote new business development strongly with a prompt action.
また、熟練の検査スタッフも揃え、幅広いサービスの提供を行っています。
Also this office has many skilled inspection staffs so that offer a variety of options that are appropriate to your needs.

エントランス
Entrance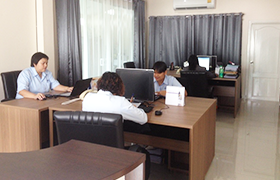 事務所
Office